From Pyrillon to febus: The history
In the summer of 1966 we purchased our first Pyrenean from Mrs Prince of the famous Bergerie Kennels he was by Ch Bergerie Charlemagne de Bedous who was Best in Show at WELKS.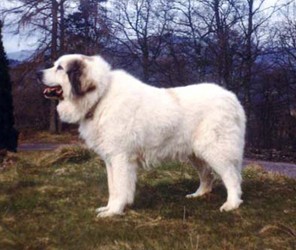 JUSTICE
'Justice' as he was named was not shown until after he was seven when we had purchased a bitch puppy from Mrs Prince in the spring of 1972. Her name was Bergerie Pomona 'Lanta' she was sired by Bergerie Knur who was Best in show at Crufts.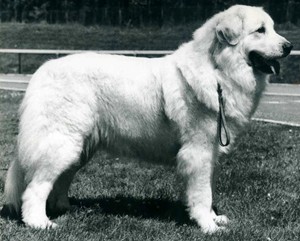 CHAMPION BERGERIE POMON 'LANTA'
After winning our first CC at Blackpool in 1976
She was our first 'show dog' and went on to be our first Champion winning 9 CC's in all, she was also the last Bergerie Champion.

Early in 1975 we mated 'Lanta' to Ch Briarghyll Falstaff and coincidentally the day the litter was born Falstaff won Best in Show at WELKS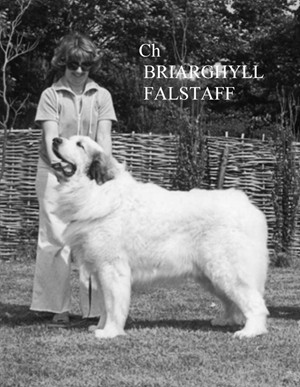 CHAMPION BRIARGHYLL FALSTAFF
Our first litter in 1975 produced Australian Champion Pyrillon Achernar of Briarghyll who became the foundation bitch of the Andorra Kennels of Eddie and Ranee von Eck in Australia, our own Champion Pyrillon Acamar winner of twelve CC's and our Champion Pyrillon Aldebaran.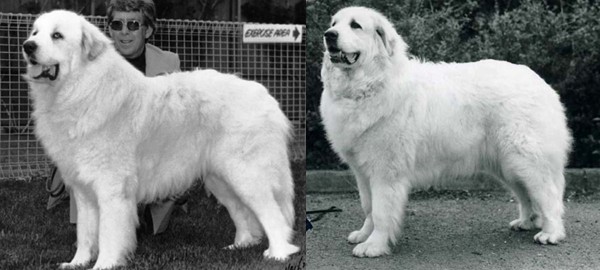 PYRILLON ACHERNAR and PYRILLON ACAMAR

Ch Pyrillon Aldebaran "Ludo" was a winner from the start winning six successive Best Puppy awards at the start of his career he would eventually win 34CC's and 34 Best in Show awards at Open Shows and was twice second in group at Championship Shows.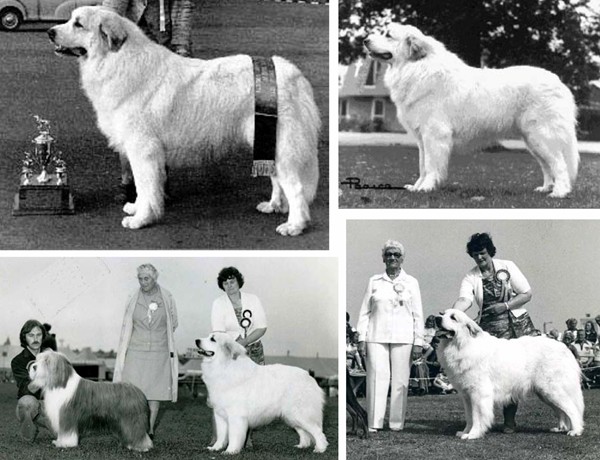 CHAMPION PYRILLON ALDEBARAN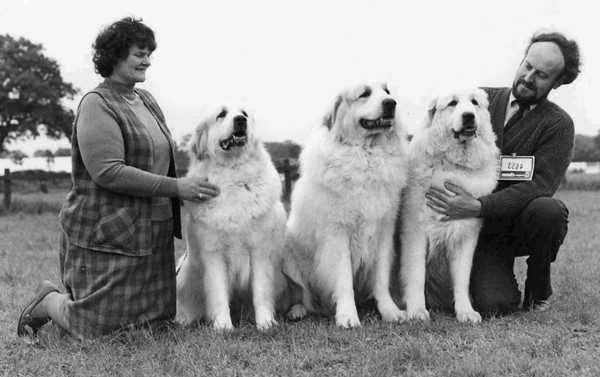 L-R CH PYRILLON ACAMAR, CH PYRILLON ALDEBARAN AND HIS DAUGHTER CH PYRIDAWN TITANIA
ON THE DAY WE WON OUR 50th CC
Titania was the winner of six CCs, her daughter was Ch Pyrillon Pyrformance born 1984 and her son was Ch Pyrillon Pyrsuit born 1987.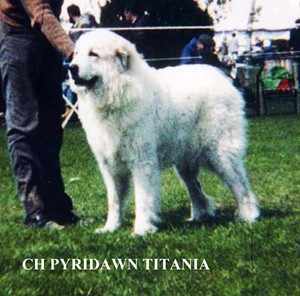 CH PYRIDAWN TITANIA



CH PYRILLON PYRFORMANCE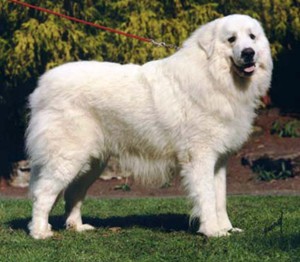 CH PYRILLON PYRSUIT
CH Laudley Damascas 'Reno' came to us early 1990 from Beryl Lord's Laudley kennels, he was sired by American import Am CH Whispering Pines Andre of Valcarlos and was a winner from the start. He won his first Res CC aged 8 months and his first CC aged nine months. In his first year he won the Our Dogs 'Pick of the Litter' competition for all breeds and subsequently won 34 CC's including five successive Best of Breed at Crufts.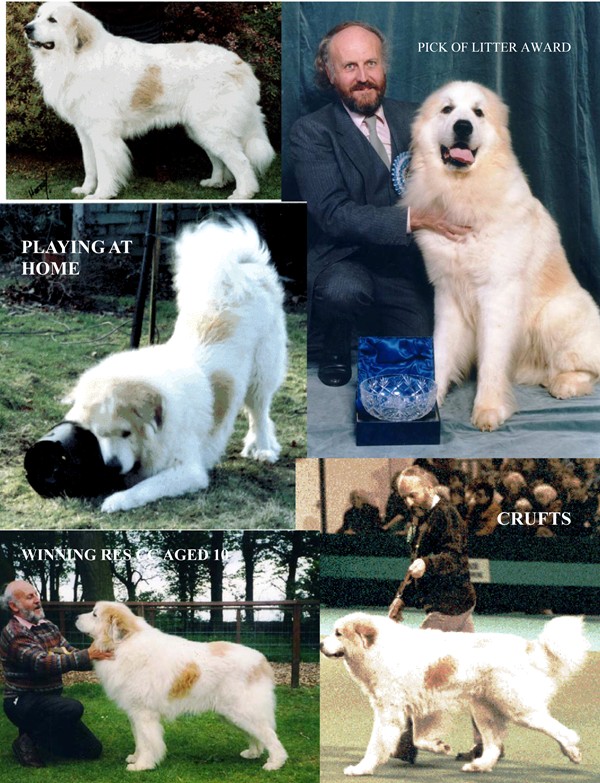 CHAMPION LAUDLEY DAMASCAS 'RENO'

The start of the 'Febus' affix was the importing from France of three puppies bred by Benoit Cockenpot in 1990 from Alia du Pic de Viscos (pictured left) and French Champion Bassy de Gabizos (pictured below guarding the goats!)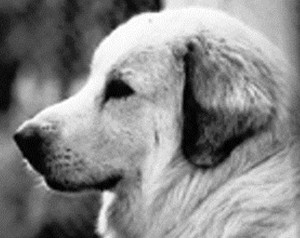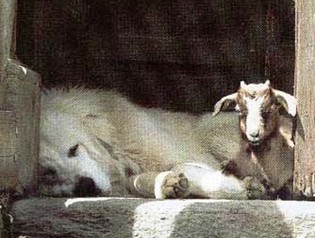 L-R: ALIA DU PIC DE VISCOS and FRENCH CHAMPION BASSY DE GABIZOS

The Febus affix was originally owned jointly by ourselves and Bob & Mildred Townsend but when they retired from showing to move abroad their place was taken by our daughter Sandra Gibson.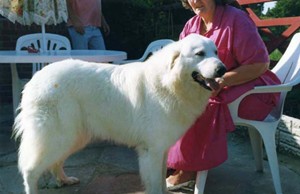 CHAMPION FEBREGE DU PIC DE VISCOS
With Adrienne Bowker the first imported Pyrenean bitch to be made into a Champion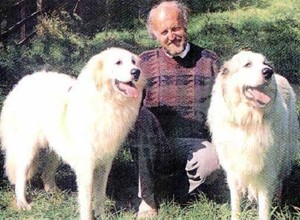 FONTAINE DU PIC DE VISCOS AND HER DAUGHTER FEBUS ASTAZOU Born 1992 BY CH.LAUDLEY
DAMASCAS WITH COLIN BOWKER

The next generation, on the right is Ch Febus Madamette sired by Damascas out of Fabrege and on the left Dunlop's CH / Ir CH Milenjohy Apollo Royale

L-R: CH / IR CH MILENJOHY APOLLO ROYALE and CH FEBUS MADAMETTE

SISTER TO ASTAZOU BY A LATER LITTER WAS FEBUS ESCALETTE (Fanta) born in 1995 and mated to Ch. Laudley Damascas in 2001gave us Febus Revilla, Ramoun and Randonee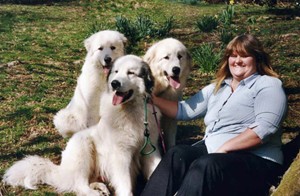 Sandra Gibson pictured with the three pups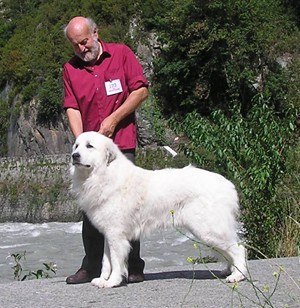 Febus Revilla in France where he was awarded "excellent" at the RACP show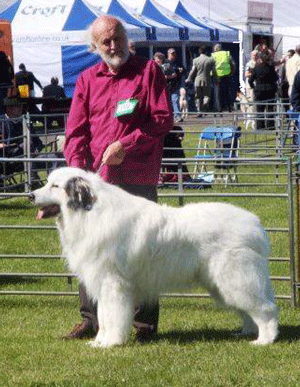 Ch Febus Ramoun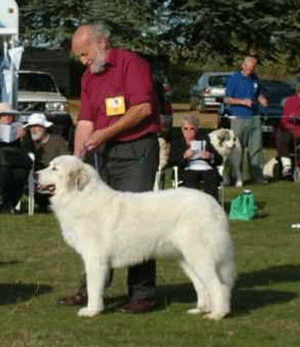 Febus Randonee winner of one CC and dam of Febus Tarascon
In 2003 Ch & Sw DK Int Viskalys Pegasus Sati (Imp Swe) came to live with us from our friends home in Sweden. Bred by Ingela Mattisson Sandstrom and her daughter Pernilla he came tom us already a Swedish and Norwegian Champion and as well as winning 7 CCs with us he also won a CACIB in Ireland that made him into an International Champion.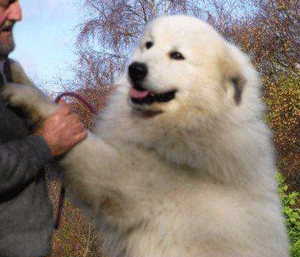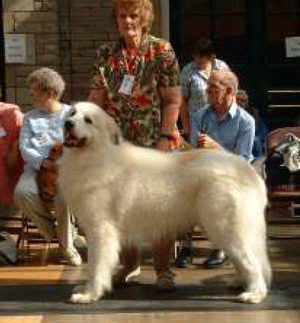 Moving on to 2004 during a visit to the French Show we met up with our American friends Wayne and Jean Boyd of the famous Rivergroves Great Pyrenees they had recently made Rivergroves Murphy Goode into an American Champion and suggested that we might like to buy him for exhibiting in the UK. After we visited him in the USA the sale was agreed but import restrictions at the time meant he couldn't come to England until august 2005. Meantime he was shown at American National and Sandra was lucky enough to be present to see him win Best in Show from an entry in excess of 300!

"Murphy" won many Best in Show awards at Open Shows as well as 31CC's including Best of Breed at Crufts and was also runner up in the prestigious Contest of Champions but his main achievement was to sire six UK Champions making him top sire in breed for 4 years from 2010. The title was then taken over for several more years by his son Ch.Gillandant Rockefeller.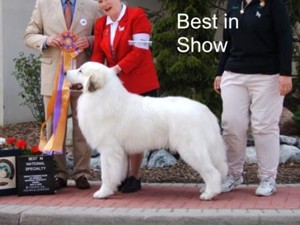 US NATIONAL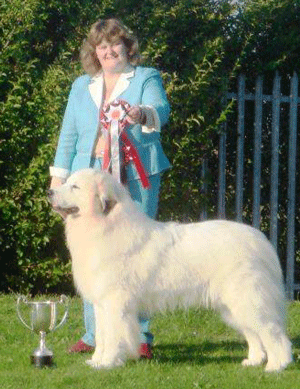 MURPHY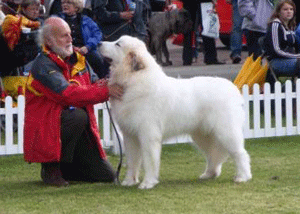 MURPHY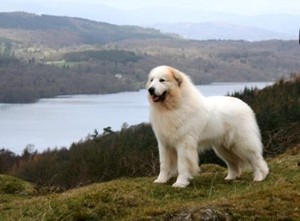 MURPHY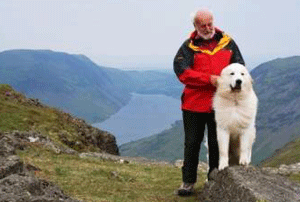 MURPHY
In 2006 Murphy was mated to Febus Randonee and gave us Febus Tarascon (Jaffa)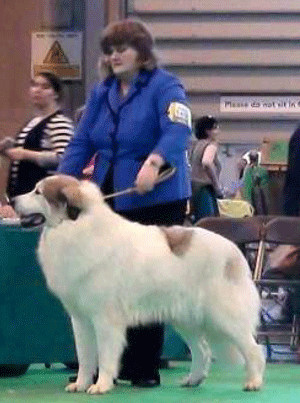 JAFFA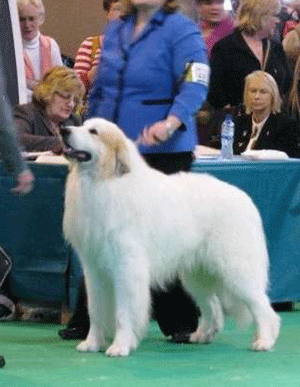 SAACHI
Then in 2011 Jaffa was mated to another US import American Champion Rivergroves Gianni Versace (Saachi) giving us Ch Febus Mauvezin (Gaston) who won 7CC's including Best of Breed at Crufts (our 7th such win) alongside his daughter Sajobein Gastons Girl avec Febus (Alia).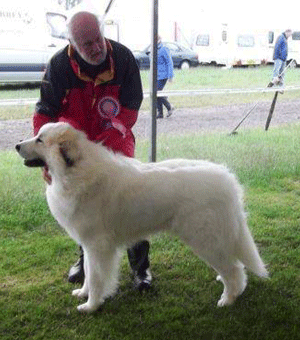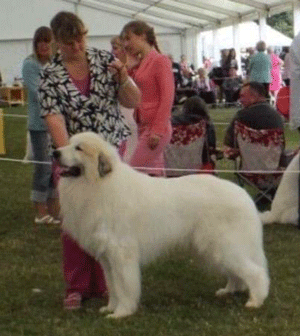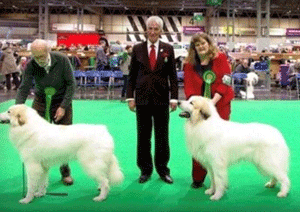 ALIA & GASTON